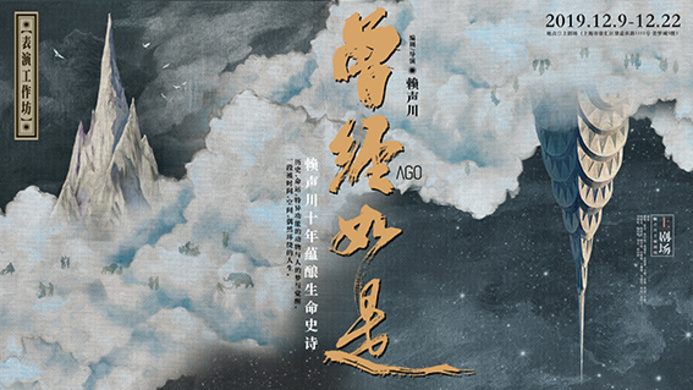 Performance Schedule
2019.12.9-12.22
Ticket Prices
¥280、580、780、880、980、1280、1680
About Ago
An epic of life in all its laughter and tears, Ago is Stan Lai's most ambitious artistic endeavor to date.
For the past ten years, playwright and director Stan Lai has been building something massive in his mind. When asked about this behemoth of a play, Lai said, "the piece was not made of concrete elements; rather, it was created through an image." The development of the play, now known as Ago, was delayed for several times because of its sheer scope and depth. The delay finally came to an end in 2019 as Lai was invited back to his alma mater, UC Berkeley, to teach, and more importantly, to compose the play that had been on his mind for more than a decade incorporating improvisation as a playwriting tool as he had done in many of his well-known plays including Secret Love in Peach Blossom Land and A Dream Like A Dream. And then there came Ago, Lai's most ambitious artistic endeavor to date, a panoramic view of the circle of life, an epic that presents in total seventy-five scenes and over three hundred characters. We have seen the "lotus pond" seating in A Dream Like A Dream, now we are going to witness what can only be described as a more profound embodiment of Lai's thoughts on theatre and on life as he writes and directs the Theatre Above production of Ago.
Synopsis
The story of Ago is set in a tranquil mountain village near the Himalayas. The play introduces a wide variety of characters who enjoy a simple and bucolic life, such as Pema who owns a noodle shop, Dorje who can tell stories about the mystical Pure Land by heart, Tashi who is able to speak with animals, Caiyun who has a voice of an angel, and many others. At a wedding, a powerful earthquake disrupts the joyous gathering and razes the village to the ground, pelting the villagers into a storm of chaos as their old life shatters. Some of them attempt a fresh start in New York City, only to find themselves standing on the brink of destruction once again on that fateful day of September 11, 2001. This time, they embark on a journey whose scope and difficulty can only be described as epic. Standing in the base camp on Kangchenjunga, they are about to face head on life's struggle at its extreme.
Written and Directed by Stan Lai
Cast: Hao Lei, Zhang Jie, Chu Chung-heng, Fan Jui-chun, Zong Juntao, Wang Meng, Jin Jing, Feng Li, Ding Hui, Yang Yuguang, Yang Zhibin, Gu Xuewei, Song Yumin, Ding Shanshan, Ma Jingwen, Dou Jin, Yuan Xinli, Liu Yilin, Chen Guohui, Liu Han, Qi Yue